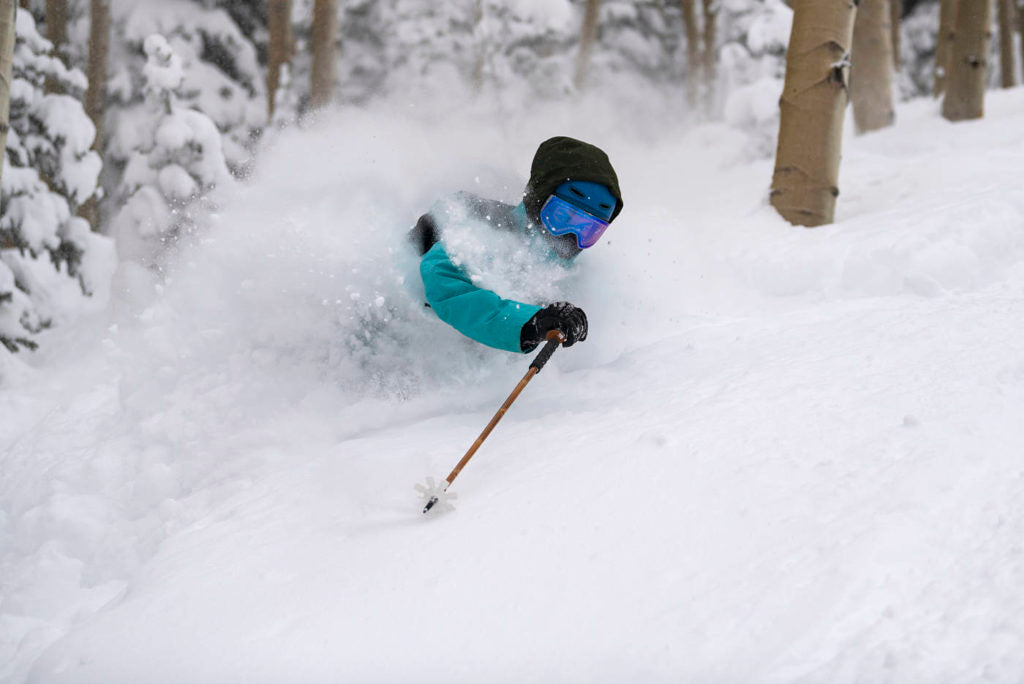 Steamboat Springs Winter Update With Vicente Katz aka. The Chilean Mango
The winter of 22/23 has been a good one here in 
Steamboat Springs, CO
. The resort summit has received 320"+ of snow to date  (as of Feb 7th 2023). 196 of those inches (or 16 feet) fell in January alone!  If anyone out there knows first hand, exactly how good this winter's been, it's
BUE athlete Vicente Katz, aka. The Chilean Mango
. We caught up with him in hopes of getting a recap on the first half of this
TRULY.EPIC.WINTER
...
Photo Credit: Kenan Van Vranken

Name, sponsors, and a brief bio. We've already blogged about you, and many locals here in Steamboat know you by your social media handle "The Chilean Mango". For those that do not know you, give us a little bio...
My name is Vicente Katz. I grew up in Santiago, Chile and moved to Steamboat Springs, Colorado to pursue my dreams of becoming a professional skier and backcountry ski guide. I can happily say my passion has become my life's work. I couldn't be more excited to grow my professional relationships, push the boundaries of my skiing ability, and continue to spread the stoke. I am currently sponsored by Folsom Custom Skis, Zeal Optics, Pret Helmets, Point 6, Grasssticks, Whatvest, Lost Range CBD and obviously BAR-U-EAT!  

How long have you lived in Steamboat for? What brought you to the area?
I have been in Steamboat for seven years now. I originally moved in 2015 to attend Colorado Mountain College. While pursuing a professional skiing career, I studied and received my bachelor's degree alongside my backcountry ski guiding certificates.

How does the winter of 22/23 compare to all other winters since you've lived in town?
This winter has been absolutely amazing, continues storms have provided the perfect recipe for some of the best days of my life. Just when I think it can't get any better, we get another big storm! This biggest difference I've noticed is that with so much more snow I found myself skiing areas in December/January that I can't typically ski until at least mid February or all season. It's allowed me to explore the mountain so much more!
How many days a week do you ski? How many days do you have on snow this season? 
44 days and counting, I normally ski weekdays. Working in a resort town, weekends tend to be the busiest on the mountain so working during the weekend and skiing during the week is a great balance for me.

What's your favorite zone in all of Routt County (in bounds / side country / bc) if you care to tell us - all good with secrets! lol.
In terms of backcountry, I tend to spend most of my time skiing in Fish Creek Canyon. The terrain is very dangerous compared to the ski resort and you can get cliffed out easily. That being said, if you know where to go and how to manage the terrain, it has some of the best ski runs Steamboat has to offer.

What's your favorite in bounds zone / area / trail in Steamboat?
When it comes to inbounds powder skiing, I really love spending time in the North Saint Pat's area. There is fun playful terrain, combined with steeps and tons of rocks to jump off of.

Give us a quick "day in the life" of Vicente? Where do you work, when do you ski during the day, etc"?
I work over at
Surefoot here in Steamboat
. I'm currently working part-time so I can have more time to focus on skiing, networking, and content creation. Most of my days start bright and early, I love having the extra time in the morning to sit down for a good breakfast with some tea, it's very important to me! Then I head to the mountain to either work/ski or both! Once I'm back at home I like to unwind with some stretching and a good home cooked meal. I love cooking and getting the right nutrition is crucial for good performance on the hill and feeling good!

You are sponsored by WhatVest. What is it, and why do you like it for resort skiing, and out of bounds?
I consider myself a professional provider of stoke. One of my biggest passions is being able to Spread The Stoke I feel towards skiing. My love for the sport is what drives me and I love sharing it with others!
Keep up with the adventures of Vicente on his Instagram page - it's a good one!
https://www.instagram.com/chileanmango/

« Back to Blog