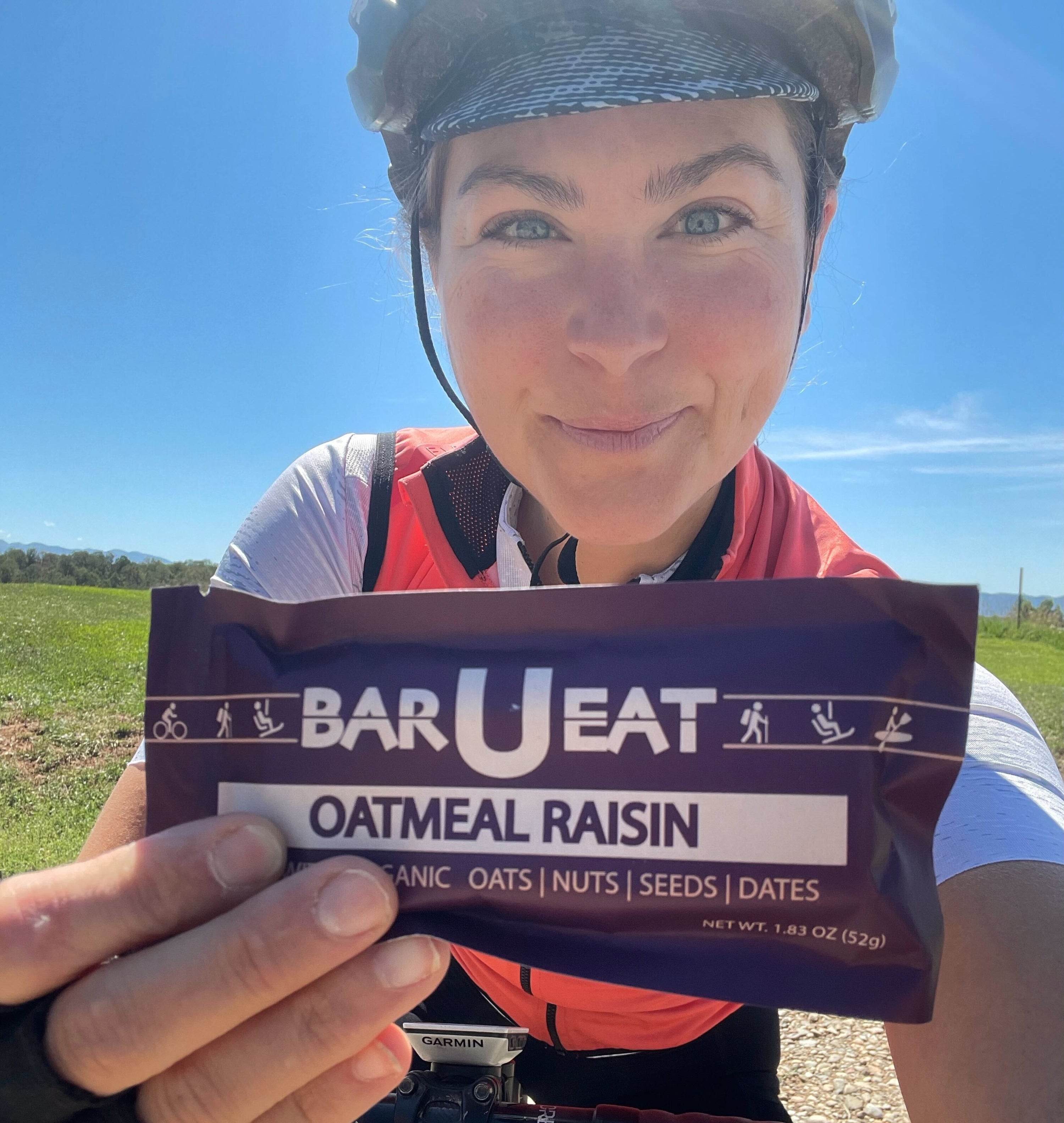 The BAR-U-EAT Collective Welcome's Ashley Carelock
We had a chance to chat with Dolores, CO based endurance cyclist, Ashley Carelock to talk all things bikes, training and of course, her favorite snack.


So Ashley, we will get right to the point. What is it that you like about the BAR-U-EAT brand and product?
The first thing I like about the BAR-U-EAT brand is the commitment to sustainability. And of course, the perfect balance of a bar that's not too sweet or salty, made of simple, wholesome ingredients, pulled me even further into loving the company.


How does the BAR-U-EAT product help fuel your adventures?
I love extra long days on my bike, it just makes my soul sing. The longer the trip or race, the happier I am. I need real food to fuel these adventures. Real food that doesn't upset my stomach, that is easily digested and that tasted good. BAR-U-EAT checks every box.


What is your favorite flavor of bar?
I like all the flavors, but if I had to choose only one bar, Oatmeal Raisin would be my first choice.


What's on your agenda this summer? Any cool projects you want to share?
I've got a few adventures coming up this summer that involve extra long days - just me and my bike! Not too ready to share all the details but the adventures will extend into the fall, hopefully here in Colorado and across the globe.


Anything else you want to say about health, training, nutrition, adventure?
Training and racing is hard work. It takes commitment and sacrifice that, at times, feels thankless. But, it's a gift to be able to know what your goals are and to try and give your best self to achieve those goals. For me, my best self is found when I am balanced and happy. This balance includes proper nutrition, rest and time with my family and friends. It's not always about how hard I train, it's about how I balance my training with the most difficult task at hand - real life. At the end of the day, I am simply blessed by the act of trying.
For more info on Ashley, check out the following links:
Website
Instagram - give her a follow!
Facebook
« Back to Blog