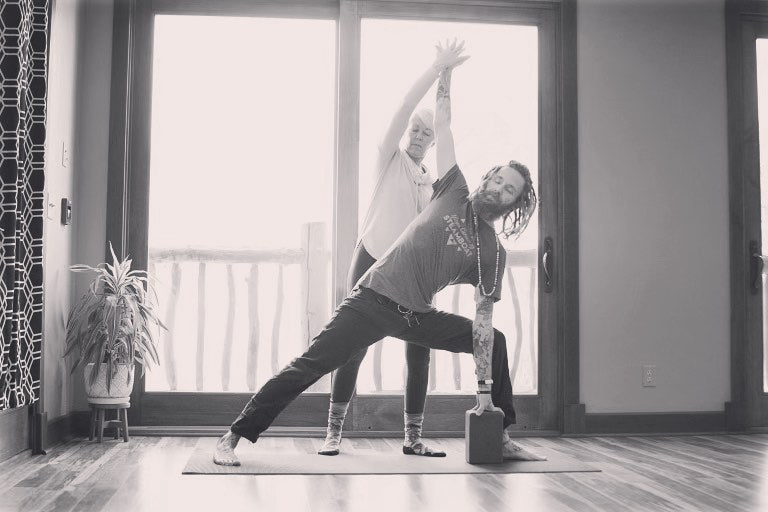 UAC Ambassador Spotlight: Mindbody Health with Jerrod Skywalker
Jerrod is a vibrant Steamboat Springs local that brings a lot to our community. We were SUPER STOKED when he filled out an application to become a BAR-U-EAT Unwrap Adventure Ambassador. He runs a yoga center in town, spends a lot of time slacklining outdoors in the summer, and is an all around amazing guy. We sent a few questions over to Jerrod about the health benefits of yoga. I personally found his answers to be insightful, inspiring and full of knowledge. Hopefully you will too!
1. Can you give us a quick bio on your background, and how you found yoga?
I found yoga in 2014 while training for a Spartan Obstacle Race. A friend said it would be a good stretch before the race, but would also help me be in good shape for the kinds of races I was doing at the time. It kicked my butt and was very humbling. About a year later I was in my first teacher training. Since then I have completed a few 200 hour programs, my 300 hour program, plus lots of continuing education courses to broaden my knowledge. In 2016 I completed Yogaslackers teacher training, and started training in the United States. I did some international teaching of slackline yoga which eventually led to a team up with Slackline Industries, which is another 1% for the planet company I'm honored to be part of. My specialties would be Yin yoga in the studio for connective tissues fascia and recovery for other sports as well as slackline yoga.



2. What are the most important physical benefits of yoga? What about mentally / holistically?
From a Western view on health, yoga focuses on the physical body, working muscles, ligaments and tendons, building bone density by resisting gravity and is looked at as more of a workout. From an Eastern medicine view, yoga is more of a work in, focuses on the other things, clearing energy blockages, being present, breathing techniques to help stimulate or take down the energy in the moment. For many it starts as a workout and becomes something more every time you roll out your mat.

3. Could you imagine your life without yoga? Does yoga help focus your work life balance? How?
As a person who has neurodiversity (brain functions differently) yoga has helped me stay more in the middle, instead of having dramatic energy and mental shifts. It helps bring balance not only outerly in the physical body but more importantly brings me balance on the inside. I can't imagine myself not doing yoga, and we all have at least 15-20 minutes a day we are doing nonsense things, that instead we could put towards mindfulness. Yoga can definitely help your work life balance - for many it helps promote new ideas and creativity, while also helping teach concentration and focus to help finish projects at the right time. Taking a class after work day can help you reset so you're more present at home with loved ones, roomies or whatever the day brings to you next.



4. How often do you personally practice yoga? And how long is a session?
I try and roll out a yoga mat 3-4 days a week for practice but daily set aside time to breathe and meditate. If including Slackline yoga I would say it's up to 6 days a week of practice for upwards of an hour at a time. Recovery days are important for the body as well. Usually at least an hour on the mat....but benefits can be found even with a 15-20 minute session.

5. How should someone who has never done yoga get involved? What type of class should they attend?
After my first class I started doing DVD's that had specific areas of stretching for recovery from crossfit and OCR workouts. Eventually I tried local studios and it just kept growing until I was taking my first training. For people new to yoga I would suggest Yin or Restorative classes because we're already so active, but foundations or intro to yoga classes are a great place to learn for beginners once you're comfortable with the layout of class and the poses you do you might start branching out to new styles.

6. Tell us a little bit about the different styles of yoga, and who would want to practice them?
While there are many names to different yogas, they all fall into three categories:
Yang yoga - This is active, heated, powerful, dynamic movements and more of an active style that works major MUSCLES and BONE DENSITY.
Yin Yoga - Yin is yoga for the connective tissues in the body and fascia (everything between the muscles), low to the floor, very slow moving to target the smaller very important connections.
Restorative yoga - Restorative yoga is for the NERVOUS SYSTEM.  Are you constantly 3-2-1, go, go, go, in fight and flight mode? Restorative yoga is for resetting the nervous system, helping you sleep, and decompressing in the body. All three styles are important to find yourself in balance. Most of us are super active already with biking, skiing, and unwrapping adventure you know? Most people could really find huge benefits with the practice of YIN and RESTORATIVE yoga classes to balance them.


7. Extra Credit - tell us about slacklining? What is it, and how long have you been doing it for? How does it relate to yoga? What benefits does it offer to someone?
Slacklining is basically balancing on a 1 or 2 inch piece of webbing slung between trees, rocks, or anything nature can provide. It was created by rock climbers in Yosemite back in the 1980's. I've been slacking since 2015. I found it after I left a yoga class, where I was feeling really defeated (from all the balance poses in class). It relates to yoga in a lot of ways. Mostly, it's a moving meditation, and is hard to think about other things when you're playing. It forces you into deep concentration paired with breath. It basically is meditation and you will leave feeling like you just finished an amazing yoga class. It provides complete core strengthening, improves proprioception of the body, trains you to breathe intentionally and overall is a very fun and exciting way to get your work out on.


Links:
« Back to Blog