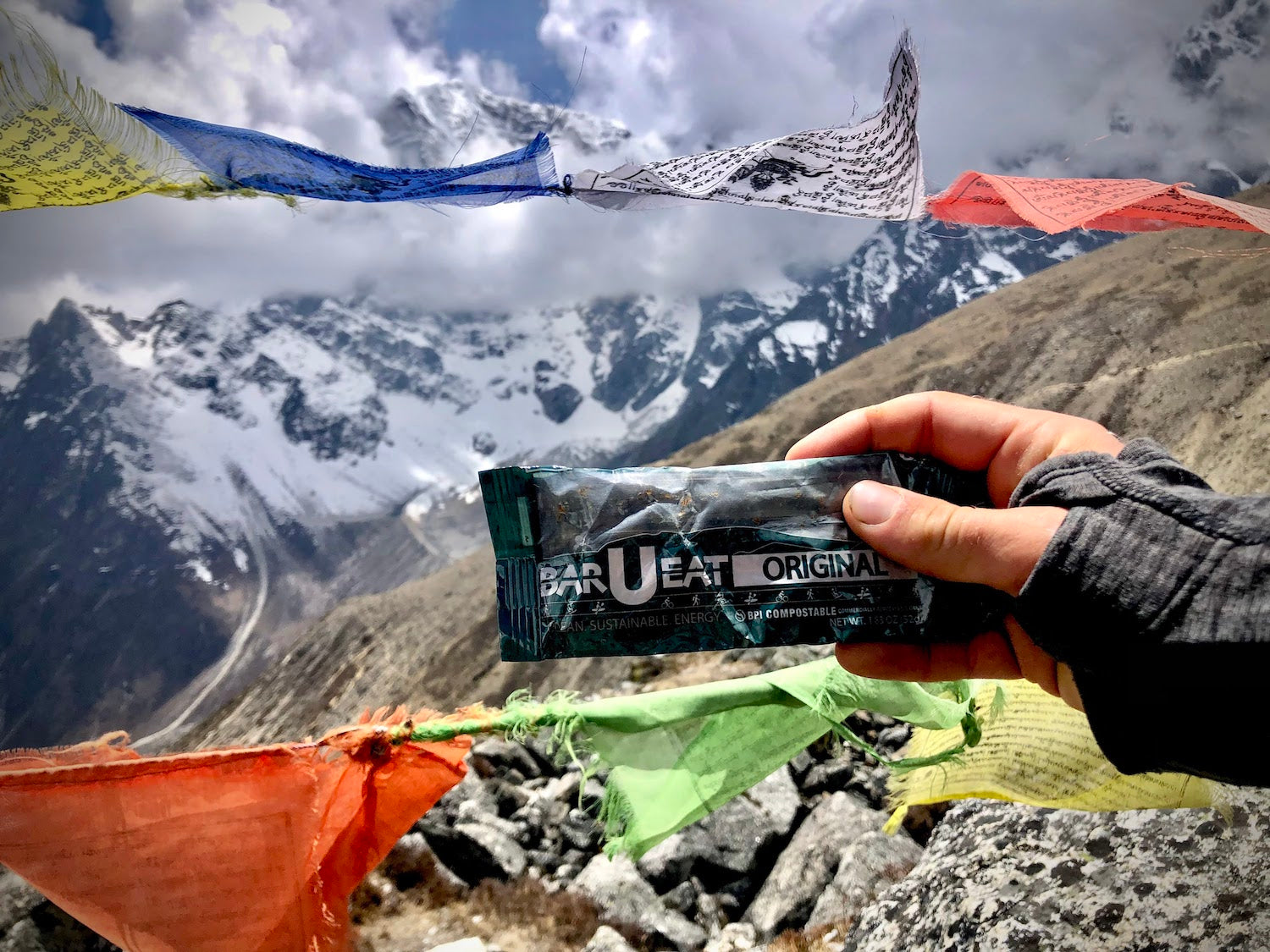 Trek-Your-Trash: An Everlasting Issue at Everest
For most backpackers, energy bars are essential travel items. They're easy to pack, store well and are a great way to provide energy on the go while trekking. Most people don't think twice about the environmental consequences of these bars, namely the plastic waste produced from the wrappers, which is a serious problem when trekking through remote regions without proper waste management or recycling. While trekking in Nepal in May 2023 working as a sports media journalist for the Everest Marathon, I packed BAR-U-EAT energy bars, which use compostable bioplastic packaging made from wood pulp and corn, as a way to minimize the amount of plastic waste I produced along my journey. Below is a story about my thoughts on the waste issue I saw firsthand in Nepal and why trekkers should consider BAR-U-EAT when hiking in remote regions of the world. 
Trek-Your-Trash
The Everest region of Nepal is trashy. I don't mean that in the sense that the place is ugly or rundown, for this region is home to some of the kindest people and most stunning peaks I've ever met and seen. I mean trashy in the literal sense that in certain areas off-the-beaten trekking routes, there's literally piles of trash that have been there for years and continue to grow. On average, there are over 100,000 tourist visitors to the Everest region each year, an area famous for classic trekking routes including Everest Base Camp, Gokyo Lakes, Island Peak, Ama Dablam Base Camp, and more technical mountaineering expeditions to several of the world's highest mountains including Everest, Lotse, and Nuptse. Although tourism has brought more wealth and business to local lodges, restaurants and shops, it has also created the world's highest trash problem. In 2022, the Nepalese Army carried down 27.6 metric tons of waste from Everest in the form of cans, bottles, plastics and human feces in an effort to clean up the trails. 
The trash problem is not new to the Everest region. Everest Base Camp was nicknamed "The World's Highest Garbage Dump" by a recent National Geographic article. From the first major expeditions in the region in the 1920s, to larger commercialized summit pushes in the late 1990s (read Jon Krakauer's Into Thin Air if you really want to understand how trekking to Everest became a business!), to the record number of visitors in recent years, trash problems have only compounded over the years. Oxygen tanks, single use plastic bottles, glass, aluminum cans, wrappers, feces, and human corpses are just a few of the many things that continue to litter the mountains at rates higher than they can be brought down. Some locals have resorted to piling, burying and burning trash—the last of which releases harmful toxins into the air from burnt plastics. Human feces are also carried down the mountain in containers by porters but often end up dumped in areas where seasonal mudslides wash them into the water supply. The majority of people who trek in the region get sick or experience diarrhea largely due to this contaminated water supply.
Some have tried to solve the waste issue. In 1991, The Sagarmatha Pollution Control (government NGO) was created to help combat these problems and has since added waste bins, led trash clean up crews and assisted in shifting the cultural mentality of trash for Nepali people, many of whom are unfamiliar with trash/recycling services. The Nepalese government as well as private initiatives started by climbers or those invested in the region have done wonders at cleaning up the trail. Notable groups include the Mount Everest Biogas Project, Everest Summiteers Association, Let's Clean Up Nepal, and Sagarmatha Next.  
From my experience trekking in the region, it's clear that despite the positive efforts of many around the world to keep Everest clean, the trash issue is far from solved. On three separate occasions, I ventured off from the main path to Everest Base Camp, exploring what I hoped would be a fun "secret trail" leading me somewhere new and exciting, but instead found it led me to a large pile of trash, usually plastics and cans. Whatever feelings of being lost in dreamy Himalayan scenery I should have had were shut down immediately with these jarring displays of human negligence.  
My first reaction to seeing these trash piles was, "Why isn't this waste being taken down the mountain?" which led me to a second more important question,  "If tourists are largely the ones bringing up this trash, why aren't we making more of an effort to bring it down?" The small local populations in the Everest region are simply not equipped to operate waste management programs large enough to accommodate 100,000 tourists per year. There's little road access, no sewage systems, no electrical lines for power, which leaves few options for waste removal. Helicopters carry some of it (which raises other environmental concerns), as well as yak trains and porters who are already carrying more weight on their backs up and down mountains than most humans could handle for even a single step (upwards of 135 pounds!). It's up to us as visitors to "trek-our-trash" down the trail.
Martians On Everest
The scenery of the Everest region can make it feel otherworldly—jaw-dropping glaciers, icefalls, barren tundra towered with the highest peaks in the world—but it can also be considered another planet because it's owned by Mars. No, not Martians from the red planet, but the multibillion dollar company Mars, who seems to have a monopoly along the Everest Base Camp trekking route. I was completely surprised to see Mars products such as Snickers, Mars, and Bounty, as well as other major soft drink and candy brands including Fanta, Coke, and KitKat, EVERYWHERE. Any small store along the route that likely at one time only sold "dal bhaat" (rice and lentils) and local yak cheese to hungry trekkers, now offers sodas and candy. Local foods can still be enjoyed, but most trekkers don't go out of their way to try them when "Martian" food is more convenient. 
After hiking thousands of feet up and down for hours everyday and feeling ravenously hungry, a Snickers bar can be a lifesaver. It's quick, easy and full of energy (and likely a sugar crash). With Mars-opoly on the Everest route, the health conscious trekker hoping for organic energy bars or even ClifBars for something slightly healthier, is out of luck unless they bring their own. 
I admit, I too succumbed to the Snickers seduction on more than a few occasions. However, I was extremely lucky to have had twenty BAR-U-EAT bars in my pack along with me for my journey. From both a nutritional and environmental standpoint, these bars should be a trekkers essential travel item—particularly in the Everest region. From a nutrition standpoint, the oats, seeds, honey, fruits and nuts and average of over 200 calories per bar provided me with sufficient energy, without the sugar crash one gets from candy bars. As for environmental concerns, it doesn't get much better than choosing bars with compostable packaging like BAR-U-EAT. 100% of these wrappers can be composted in traditional composters (find composting services near you https://findacomposter.com/!) that turns the wrappers back into soil. BAR-U-EAT is one of only a handful of energy bar/snack companies in the world to use such packaging. The used wrappers from my journey that likely would have ended up in an Everest trash pile are now already soil by the time this article will be published. 
Packing BAR-U-EAT for my Everest journey might only be a small solution to the growing trash problem in the Everest region, but it's certainly an easy step in the right direction that anyone can take. Don't let the "Martians" decide what you eat or how you treat the environment, there are always healthier and more environmentally conscious options if you're willing to put some thought into your travel footprint beforehand and find products that align with your beliefs. Bringing these bars wasn't just about cutting my plastic waste, as much as it was about becoming more aware of how I eat along trekking journeys, what products I consume, my impact on local environments, and how I can do better for the people and the Earth. As outdoor enthusiasts we all need to find the right kinds of energy to tackle our huge physical challenges, and even larger environmental challenges too. 
 -
Tayte Pollmann
« Back to Blog